Unmarked Crosswalks: Every Intersection Could be a Crosswalk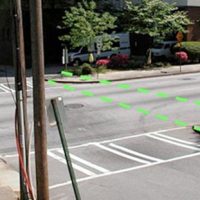 Seattle might be one of the most pedestrian friendly cities in the world. Our pedestrians are notorious for refusing to jaywalk, even when the road is clear. While some people travelling here or moving from out-of-state may find this odd, be aware that the Seattle Police are also known to hand out citations and tickets to jaywalkers.
Seattle's municipal code, as cited by the Seattle Department of Transportation, establishes crosswalks in any area where an intersection exists unless otherwise marked. This means that anytime two streets meet, there is a crosswalk. When you are travelling in residential areas, it is important to realize that there are unmarked crosswalks at every intersection. At these intersections, pedestrians – not cars – have the right-of-way and vehicles must yield to pedestrians.
Pedestrians are entitled to walk across the street at the intersection and motorists must stop and allow them to cross. Unless the pedestrian suddenly darts into traffic, a vehicle that hits the motorist is likely at-fault for striking a pedestrian in the intersection. Even if the pedestrian might share some degree of blame, Washington still allows recovery in some circumstances even if the pedestrian was also at-fault.
If you are struck by a vehicle, contact our office for a consultation and an evaluation to find out your rights and determine if there is a pathway to compensation for your injuries.