Rollover accident kills pedestrian on sidewalk and critically injures driver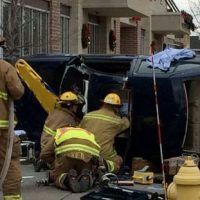 An SUV sped away from a police officer in Auburn and eventually left the road and flipped over, killing an innocent pedestrian walking on the abutting sidewalk. According to KIRO, the driver had a warrant for first-degree manslaughter and was fleeing from the police, despite the police not engaging in a high speed pursuit. The officer was apparently not in pursuit of the vehicle at all but was responding a call for a burglary.
Roll-over accidents are very common and often involve single vehicle collisions. In this case, it is unknown if there were passengers also injured inside the SUV. The biggest tragedy is that an innocent pedestrian was struck and killed by the speeding SUV. We can only hope that the SUV was somehow insured sufficiently to compensate the victim's family via a wrongful death suit. The fact that the driver was wanted for manslaughter charges certainly lowers the odds of their being a large insurance policy but I could be wrong.
In this instance, the pedestrian's family should certainly contact a personal injury attorney to discuss options. If the pedestrian owned a vehicle, he or she may have had uninsured motorist coverage that could provide an avenue for recovery for the family left behind. This is truly a terrifying accident from any perspective. A life was needlessly taken due to a negligent, speeding driver.
We have recovered financial awards for victims in pedestrian accidents and would not hesitate to take on similar types of cases against insurance companies and the negligent drivers that they insure and defend. If you or your family is injured in a pedestrian accident, contact us.