Truck Accident Closes Interstate Near Seattle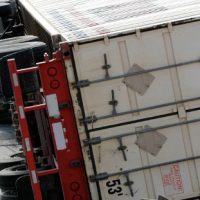 A truck accident in Bothell resulted in Interstate 405 being closed for several hours. A tractor trailer driver died after rolling his truck at the junction of Highway 522 and Interstate 405. The accident resulted in the cab of the truck falling off the side of the highway.
Large trucks are often the cause of severe injuries and wrongful death claims because of their large mass and size. Some of the worst accidents in Washington result from collisions with tractor trailers and 18-wheelers on our highways and interstates.
No determinations have been made about the fault of the driver in this accident but oftentimes truck drivers and the trucking companies violate the federal laws and regulations that limit the number of hours that drivers can drive. In this instance, five other vehicles crashed into the cab of the truck when it landed on Interstate 405, a further testament to how dangerous this vehicles are.
If you or a loved one are injured in a crash with a tractor trailer or large truck, contact us. Our website also contains valuable information about truck crashes.