Watch Out for Bicyclists – Recent Capital Accident Likely Due to Inattention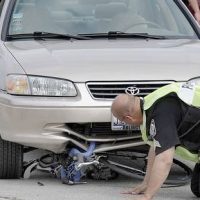 Its summertime and a lot of people are out on their bikes enjoying the nice weather. Even when the weather is terrible, Seattle and the Puget Sound region has an abundance of bicyclists who use our roads and highways for commuting and exercise. If you are driving, the law requires you to keep a lookout for bicyclists and yield the right-of-way to a bicyclist just as you would to a car.
A driver recently demonstrated poor attention and struck a bicyclist on 12th Avenue in Capitol Hill recently and caused what appears to be a serious injury to the unfortunate bicyclist. If the driver had insurance, the bicyclist can make a claim for the personal injuries suffered – in this case a broken ankle.
If the driver did not have insurance, the bicyclist could potentially make a claim with his or her own insurance company under an uninsured motorist policy – UM for short. Here's a link to a further explanation about UM coverage.