Seattle Bus Hits Pedestrian – 3 Injured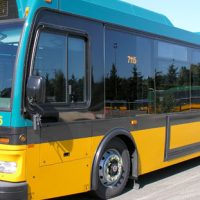 A King County metro bus struck a pedestrian on Monday. The sudden stop also caused injuries to two people on the bus when the bus stopped suddenly. The article does not mention much about the incident itself and how or where it occurred. The pedestrian suffered life-threatening injuries and was rushed to Harborview – Seattle's trauma hospital.
I'll be curious to learn how the accident happened and where it took place. As a bus rider myself, I think most of the drivers do a great job but clearly mistakes can happen due to inattention. Seattle has very pedestrian-friendly laws and ordinances. A driver is required to yield to a pedestrian in most instances unless the pedestrian is walking against the light or jumps out suddenly. The relevant pedestrian laws and rules of the road can be found through the Seattle Department of Transportation.
If the driver failed to see the pedestrian in a crosswalk or made a turn and hit the pedestrian in a crosswalk, the driver is probably at-fault. The victim would have to file a tort claim form with King County Metro to initiate a claim – a copy of the form can be found here. Washington law requires a victim to file a claim against any county or municipality and wait 60 days before a lawsuit can be filed.
Another interesting question is whether the passengers on the bus have a claim against the driver for the short-stop. I suppose if the pedestrian was the at-fault party and caused the accident (again, we don't know enough to even speculate) perhaps the passengers could bring a claim against the pedestrian, though that would be a new one for me.