New law may allow motorcycles to ride on shoulder of highway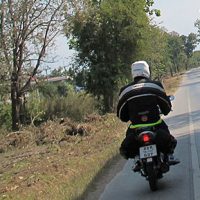 A new piece of legislation was recently proposed that would allow Washington motorcyclists to drive on the shoulder of the road and pass on the left if traffic backed up. The law would permit a motorcyclist to move onto the shoulder and move around traffic congestion as long as the motorcycle does not exceed 25 miles per hour or more than 5 miles above the pace of traffic. It does not allow a motorcyclist to split lanes or drive between cars.
Motorcyclists are commonly involved in severe accidents for two reasons: First, they are hard to see on the road and a distracted or negligent driver can easily turn in front of a motorcycle or fail to see the motorcyclist in time. Secondly, motorcyclists usually do not stand much of a change of avoiding severe injuries. They are exposed and not protected by the frame and exterior of a vehicle and are likely to suffer severe injuries.
This new law would create a strange situation by putting motorcyclists in a place on the road where other motorists may not expect to see them. The legislation may never move forward or become law here in Washington and appears to be a reaction to the severe traffic congestion on Interstate 405 that was caused by the recent changes in the tolling rules and charges.
We represent motorcyclists who are injured in accidents or suffer severe injuries to do other driver's negligence. We have also represent pedestrians and other drivers who were injured in accidents caused by motorcyclists. Contact us if you or a family member or friend needs to know their rights after suffering an injury.