Tire falls off vehicle and causes major collision on I-5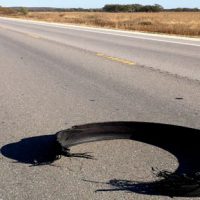 A major collision recently made headlines when a wheel came off of a vehicle and caused two severe injuries on I-5 near the Tukwila area. It appears that the wheel or tire of a vehicle came off and then struck a vehicle, which then resulted in a two car pile up. Two people were taken to Harborview Medical Center, Seattle's trauma hospital, with severe injuries.
Liability or determining who is to blame for this accident could be an interesting puzzle. It is assumed that there is another car or vehicle that lost a tire and must be in the vicinity of the accident given their lack of a drivable vehicle. If the person who put the tire on the car failed to this correctly, the injured people could have a claim against someone like Jiffy Lube or Les Schwab or someone who changed or replaced the tire. This entirely speculative – more facts may arise.
The driver who struck the vehicle that became disabled may also be at-fault. Washington has a doctrine known as the "following car doctrine" that creates an assumption that a following driver is at-fault for striking a vehicle traveling ahead of the driver. If the following driver was not paying attention, he or she may be responsible as well.
It's a strange accident factually and one that would require a lot of investigation and a carefully thought out theory of liability. We have represented people injured by objects flying from trucks or cars and causing injuries to others on the road. Please call us if you or a family member are injured in a car accident in the Seattle-Tacoma area or anywhere throughout Washington.