Who Can Bring A Wrongful Death Lawsuit In Washington?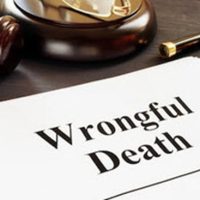 A person who is injured due to someone else's negligence normally has the right to file a personal injury lawsuit and seek monetary damages. Of course, if the victim is killed due to negligence, they are no longer able to take any sort of legal action. At that point Washington law recognizes a special type of personal injury claim known as a wrongful death action.
The Role of the Personal Representative in a Wrongful Death Case
But who exactly is entitled to file a wrongful death lawsuit? The law on this subject varies from state to state. In some jurisdictions the victim's immediate surviving family members, such as a spouse or children, have the right to initiate a lawsuit. Here in Washington, however, state law grants the exclusive right to file a wrongful death action to the personal representative of the victim's estate.
A personal representative–sometimes known as an "executor" or "administrator"–is a person appointed by the Superior Court to manage the property and affairs of a deceased person. This includes bringing any wrongful death action on behalf of the estate. If the victim left a valid last will and testament, that document will typically nominate a person to serve as the personal representative. In the absence of a will–what is known as an intestate estate–the court will appoint a personal representative based on a certain order of priority. Normally, any surviving spouse or registered domestic partner has priority, followed by the next of kin (children, siblings, parents, et cetera).
While the personal representative is normally charged with bringing a wrongful death case, Washington law does allow the parent of a deceased child to file or join a wrongful death action under certain circumstances. If the child was a minor–under the age of 18–at the time of death, then a parent or legal guardian who "regularly contributed" to that child's support may bring or join a wrongful death case. Similarly, the parents of an unmarried adult child with no descendants of their own can also bring a wrongful death action in their own name if they had "significant involvement" with that child around the time of their death.
Speak with a Washington Wrongful Death Attorney Today
Although a personal representative may file a wrongful death lawsuit, the actual beneficiaries should the case succeed are specified by state law. Basically, if any damages are awarded, that money will go to the victim's spouse, registered domestic partner, child, or children. If the victim had no spouse, domestic partner, or children, then any damages would go to the victim's parents or siblings.
Wrongful death cases often involve a number of complex legal questions such as the ones discussed above. So if you have recently lost a loved one due to a reckless or negligent act, it is important to speak with an experienced Seattle wrongful death attorney as soon as possible. Contact the Emerald Law Group today to schedule a free consultation.
Source:
apps.leg.wa.gov/RCW/default.aspx?cite=4.20.010