Understanding A Pedestrian's Rights After A Bicycle Collision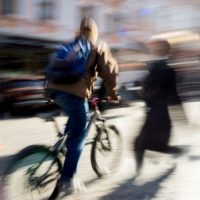 In the Seattle area, thousands of people enjoy walking or bicycling every day, whether they are out for fun, getting to work, or running errands. Bicyclists and walkers alike take justifiable pride in these eco-friendly modes of travel. However, most don't realize there are safety risks involved, and accidents between bikers and walkers can have dangerous consequences.
While accidents between motorists and those on foot or bike gather more attention and lead to thousands of fatalities each year, accidents between cyclists and pedestrians themselves can be serious too. Just like drivers, bicyclists can run through red lights, stop signs, or veer off course and into the path of pedestrians. Bikes can pose substantial dangers to others on streets and sidewalks, but not all bikers take these potential dangers – even to themselves – seriously. A bike-related crash can lead not only to bumps and bruises, but to broken bones and even traumatic brain injuries.
Common causes of bicycle crashes can include:
Running stop signs, yield signs, or red lights;
Failing to yield to pedestrians;
Failing to observe pedestrians completely;
Failure to obey road markings and crosswalks;
Distracted riding (or example, looking at a phone or eating food);
Riding under the influence of drugs or alcohol;
Failure to use lights or reflective gear in the dark;
Not wearing proper safety equipment;
Riding a faulty or poorly maintained bicycle.
Bicyclists – just like motorists – owe a certain duty of care to others on the roads and paths of travel. Failing to observe standard bicycle safety measures can amount to a breach of this duty of care to others. When a bicyclist's breach of duty causes harm to others, they can be held responsible in court for the monetary, physical, and emotional damages caused to an innocent pedestrian. A court would look to see whether the bicyclist was primarily at fault, or whether the pedestrian contributed toward the incident in some way.
A pedestrian injured by a bicyclist can potentially file a personal injury lawsuit for damages including:
Medical bills
Lost wages due to work missed
Costs related to therapy and rehabilitation
Pain and suffering 
Each case is different, depending on its unique facts and circumstances. If you believe you or a loved one has been injured due to reckless or negligent conduct by a bicyclist, you should contact a Seattle personal injury attorney that has handled these cases before.
 Our Seattle Personal Injury Attorneys Can Help If You Have Been Injured by a Bicyclist
A collision between a bicycle and a pedestrian is not something to take lightly – serious or even permanent injuries can be involved. If so, you might be entitled to financial recovery in a court of law. The experienced Seattle personal injury attorneys at the Emerald Law Group will listen to your concerns and explore all available legal options. Our legal team has helped many people across the Seattle metro area obtain compensation for personal injuries – including those involving bicyclists. To learn more, please visit our firm online or call for a free consultation at 206-823-0792.
Source:
pedbikeinfo.org/factsfigures/facts_safety.cfm