SUV Crashes into Metro Bus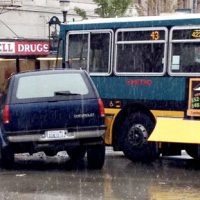 An SUV crashed into the rear of a Metro bus causing several injuries to the driver and passengers inside the SUV and to two people on the bus.
The accident happened near Denny and Broadway, near where the new light rail stop is opening. Pictures from the scene show a rather gruesome accident. Life-threatening injuries were reported as well.
This area of Broadway also has a street car and the new bike lanes running along the street. By the looks of things and based on the quotes in the article, the driver hit the bus at a high speed.
The passengers in the car and anyone injured in the bus likely would have claims against the driver of the car who we hope was well-insured based on the number of people injured and the apparent severity of the injuries. As the following vehicle, the driver of the SUV has a duty to keep a lookout and keep a safe following distance. The police surely investigated this accident and we wonder if there may be other factors at play such as distracted driver.