My Own Car Accident – A Personal Injury Attorney's Perspective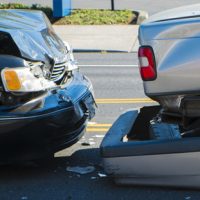 In a somewhat ironic twist, I was rear-ended recently while driving home from work. I was stopped at a red light when without warning I felt someone slam into the rear of my car. Like most people who we represent, I was initially shocked and was not exactly sure what had happened.I did not hear a horn blow or hear skidding or other tell-tale signs of an ensuing accident. I have had clients in the past who said they could see a car approaching quickly in their rearview mirror and braced for impact. I did not have that opportunity and was taken completely by surprise.
After I realized what had happened, I looked in my rearview mirror to see what appeared to be an elderly man and his elderly wife. At the next opportunity, I turned off the four-lane road that would have normally been my uneventful route home and turned into a nearby parking lot. The at-fault driver pulled in as well and got out of his car. I asked for his insurance information and found out that he did not have insurance. Like approximately 16 percent of the drivers on Washington roads, the driver who hit me was uninsured.
My immediate reaction to this news was frustration and anger. Then I looked at this elderly man standing in the rain with his elderly wife in the passenger's seat. It looked like he was bringing her home from a medical appointment. My sympathies got the better of me and I decided to simply get the driver's contact information and contact my own insurance company. The driver allowed me to snap a picture with my phone of his driver's license and also took a few pictures of his vehicle and license number. In hindsight, I realize that I failed to follow one of the rules I always stress to my clients: call the police and get a police report to document the accident and collision.
Fortunately, I carry uninsured motorist coverage which allows me to pursue my own insurance company just as if I was pursuing a claim with the at-fault driver's insurance. My insurance company ͞steps into the shoes of the man who hit me and will pay my property damage and for my medical and pain and suffering. The only drawback is I had to pay a $100 deductible to my insurer, Allstate, in order to pursue underinsured (UM or UIM) claim.
I have represented hundreds of people who have been in rear-end accidents but had never been rear-ended myself. I initially had a headache and sort of a ͞stunned͟ feeling at the accident scene. Later in the day and into the evening, I started having neck pain and pain along the left side of my spine. It was interesting, though painful, to experience what so many of my clients have described. Unlike my clients, however, I do not have to look far to find a personal injury attorney if I need help.