Seattle Pays Out In Bike Accident Settlement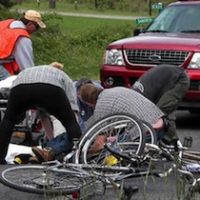 Recently, the City of Seattle paid $375,000 to pay the lion's share of an injury settlement related to a 2012 bicycle accident. In 2012, Sally Clark, at the time on the Seattle City Council, struck a cyclist who suffered severe injuries. According the Seattle Times article, Clark was unaware that her auto insurance liability limit was only $25,000.00. As such, the City of Seattle ended up paying the rest of the $400,000.00 settlement because Clark was on official business at the time and covered by their liability insurance as well.
The article does not indicate whether the cyclist had uninsured/underinsured motorist coverage but this case certainly illustrates the importance of having adequate UM/UIM coverage on your auto insurance policy if you are also a cyclist.
UM/UIM coverage provides insurance coverage against drivers that have no insurance or do not have adequate insurance to fully compensate someone they hit and injure. If you are a bicyclist you should carry the maximum UM/UIM coverage available. The one catch is you have to own a car and have insurance to have UM/UIM coverage.
Bicyclists who are injured by motor vehicles are extra vulnerable and often suffer catastrophic injuries as a result. In this case, Clark was on official business and was luckily covered by the City's insurance coverage as well. Had the bicyclist been hit and injured by a driver without a second layer of insurance and had no UM/UIM coverage himself, he would likely have only been able to recover $25,000.
Our attorneys have represented many bicyclists who've been negligently injured by careless, reckless or inattentive motorists. If you or a family member have been injured while riding a bike we are here to help.
http://q13fox.com/2016/05/12/400000-payout-for-cyclist-hit-by-seattle-councilwoman/