White Bicycles and Outlines of People – Reminders of Wrongful Pedestrian and Bicycle Deaths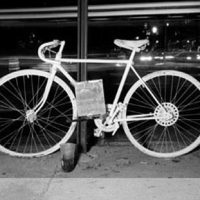 If you live or work in the Seattle area, you may have seen white bicycles or the outlines of pedestrians on sidewalks or along bike paths throughout the city and county. These are the results of a project known as Ghost Bikes – which works to raise awareness of bicycle fatalities and safety concerns. The organization, which includes cities throughout the world, places "ghost" bikes, painted completely white, at places where bicyclists suffered severe injuries caused by poor conditions or vehicles, or were killed by motorists.
One place where you will find these bicycles is at the intersection of bike paths, such as the Burke Gillman Trail, and streets or highways that cross the bike paths. These intersections usually direct either the cyclist or driver to yield the right-of- way but sometimes are not well-marked or indicated. It is typical to see the ghost bikes at intersections that are dangerous or have a history of similar types of accidents.
According to Ghost Bikes, it has mapped over 140 accident sites throughout the city and has placed over 40 ghost bikes. According to their website, narrow sidewalks, unmarked bike paths and poor road conditions often contribute to these problems. If you see a ghost bike, it is a good indicator that a particular intersection or stretch of path or road is dangerous and precautions should be taken.
Bicyclists are some of the most vulnerable members of our community. They share the roads with cars but do not have the benefit of the vehicle that surrounds a driver or the safety devices that keep a driver safe during a collision. Bicyclists are likely to be thrown from their bikes and suffer very severe injuries or death when cars strike them or conditions on bike paths, roads and sidewalks are not properly maintained by property owners or municipalities.
If you or a loved one needs more information about what we can do to assist you after a bike accident or biking injury, we offer free consultations and can put you in touch with one of our attorneys even after hours or on the weekends.