WA Legislature Attempting to Close the Wage Gap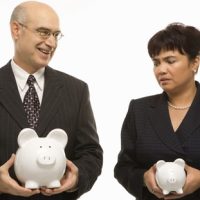 For the third year in a row, the Washington State legislature is attempting to pass legislation to close the pay gap between women and men. House Bill 1506 would require employers to have job-related reasons for differences in pay and career opportunities for men and women. It would also help uncover pay disparities between women and men doing the same job by prohibiting employers from retaliating against employees who discuss wages.
The bill also provides for enforcement by the Department of Labor & Industries. Under current law, an employee with a claim of gender discrimination in pay must sue her employer to obtain relief. However, House Bill 1506 requires that the Department of Labor & Industries must respond to complaints of unequal pay, and it has the authority to order payment of wages, double damages, interest, costs and attorney fees. Private causes of action are also available.
Women in Washington make 79 cents for every dollar men make. For women of color, the gap is greater. African-American women and Latina women make 61 cents and 46 cents, respectively. According to the National Women's Law Center, the wage gap will cost a Washington woman nearly a half-million dollars over a 40-year career.
The House of Representatives has passed the bill, and it now heads to the Senate.