7 Common Causes Of Stairway/Staircase Accidents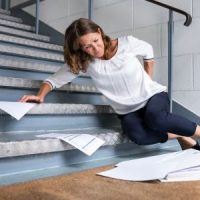 Stairways and staircases are an integral part of many buildings and are used by numerous people every day. Unfortunately, many people get injured when walking up and down stairs, especially when there are dangerous conditions. According to a study published in the National Library of Medicine, more than 1 million Americans are treated in emergency rooms for stair-related injuries each year.
The causes of stairway/staircase accidents vary, and the injuries resulting from such accidents can range from minor bumps and bruises to permanent disabilities and even fatalities. Our Seattle defective stairs lawyers at Emerald Law Group help people who have suffered stair-related injuries in Seattle, Tacoma, and the surrounding area.
What Are the Common Causes of Stairway/Staircase Accidents?
Accidents on stairways and staircases can be caused by a wide range of factors. Some of the most common causes of these accidents include:
Improper stair height or depth. The height and depth of stairs should be consistent throughout the staircase. Uneven stair size can throw off your balance and lead to a fall. If a staircase has too high or too shallow steps, it can cause people to trip and fall.
Uneven stair height or depth. Uneven stair height or depth is a common problem that can be easily fixed by having a professional assess the staircase. It is essential to make sure that any stairs or stair treads are even and in good condition.
Inadequate lighting. Inadequate lighting is another factor that can lead to stairway accidents. Poor visibility can prevent people from seeing each stair, making it challenging to navigate the stairs safely.
Broken or missing handrails or railings. Handrails and railings help people maintain their balance while climbing up or down the stairs. If handrails or railings are missing or damaged, people may lose their balance, slip, and fall.
Damaged steps. Damaged steps due to cracks, chips, or worn-out material is another common reason for stairway accidents. Damaged steps are difficult to see, and people may trip or slip on them.
Slippery steps. Slippery steps are another significant problem that can lead to falls on staircases. Common causes of slippery steps are wet flooring, grease, or spills. Cover your stairs with a non-skid material to minimize the risk of slip and fall accidents.
Objects left on stairs. Objects like toys, books, or debris on stairs can lead to accidents. These objects can obstruct your path and cause you to trip or slip.
No matter what caused your accident, you might be entitled to compensation if you can prove that the property or business owner (or another party) was negligent and that their negligence led to the accident.
What to Do After a Stairway/Staircase Accident?
The steps you take in the aftermath of your stairway/staircase accident will have a profound effect on the outcome of your claim for compensation.
1. Report the Accident to the Property/Business Owner
The first thing you should do after a stairway or staircase accident is report it to the property or business owner immediately. This step is essential as it helps ensure that the accident is properly documented and that steps are taken to prevent similar accidents from happening in the future.
2. Take Photos of the Condition That Caused the Accident
Another important step to take after a stairway or staircase accident is to take photos of the condition that caused the accident. This could be a broken or defective railing, slippery flooring, or any other hazardous condition. These photos can be used as evidence in case you need to file a claim or lawsuit against the responsible parties.
3. Seek Medical Attention
Seeking medical attention should be your top priority after a stairway or staircase accident. It is crucial to get checked out by a medical professional to document your injuries and start the treatment. Delaying medical treatment can also weaken your case if you decide to file a claim or lawsuit later.
4. Talk to Witnesses
If there were witnesses to the accident, make sure to talk to them and obtain their contact information. Witnesses can provide valuable testimonies that can help support your case. Get their full name, phone number, and email address.
5. Call a Lawyer
A lawyer can help you understand your legal rights, assist you with gathering evidence, and negotiate with the responsible parties on your behalf. A skilled personal injury lawyer will help you take the necessary steps to recover fair compensation for medical bills, lost income, and other losses and damages.
Get a Free Consultation with a Lawyer
The knowledgeable and results-driven lawyers at Emerald Law Group represent people who sustain injuries on someone else's property, including stairways and staircases. Reach out to our lawyers today to schedule a free consultation. Call 206-826-5160.
Source:
pubmed.ncbi.nlm.nih.gov/28947224/